This page contains affiliate links, which means we may earn a small amount of money if a reader clicks through and makes a purchase. All our articles and reviews are written independently by the Netmums editorial team.
How to cook a gammon joint
Our gammon recipe is so easy and perfect for any time of year...
Rate this recipe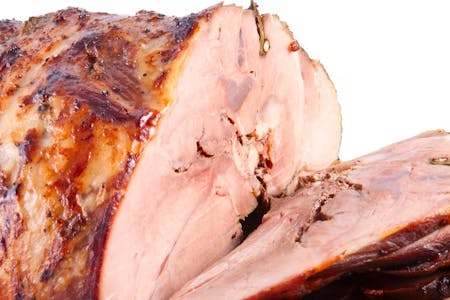 Difficulty:

Easy
Serves 8+
Gluten Free
Preparation
Total time

6 Hrs 30 Mins

Preparation time

30 Mins

Cooking time

6 Hrs
joint of gammon

onion, sliced

lemon, sliced

peppercorns

2 bay leaves (optional)
For the glaze
2 tbsp demerara sugar

1 tbsp French mustard
Soak the joint of gammon in cold water for a few hours (or overnight) to remove the salt (if you haven't got time to soak the gammon for a few hours, boil it for 30 minutes instead to remove the salt and then start the recipe)

Transfer to a large saucepan or slow cooker (if using a slow cooker, cook on low for 6 hours), add fresh cold water, an onion, a lemon and a few peppercorns (and a couple of bay leaves if you have them)

Bring to the boil slowly and simmer for 25 minutes per 500g

Skim off any scum that comes to the surface as it is cooking

Then leave to cool for a few minutes before lifting out

Carefully peel off skin (without removing the fat) and cover with a glaze of demerara sugar and french mustard
It's a British classic meal, we show you the best way to cook it. The cooked meat will last up to 5 days in the fridge and makes delicious sandwiches, especially smothered with english mustard.
25 minutes per 500g is equivalent to the following cooking times:
Instead of water, cook your ham in Coke, cider or stock
If you want it to look fancy when you serve it up, you can cut diagonal shapes in the surface fat and add a clove into each diagonal before putting in a 220'C/Gas mark 7 oven for 20 minutes or until the glaze is caramelised
For an alternative glaze; use honey, orange juice and mustard
If you use water, save the stock for boiling vegetables
Guest

Has anyone tried this in coke, need advice asap. It's cooking now and the coke has like separated. So it's like clear liquid with like brown scummy bits floating in it. Something isn't quite right here :/ help someone please?

Reviewed on 23/12/15

Guest

Looks a great recipe, will use this over the Christmas period.

Reviewed on 11/11/15

Guest

will be trying this for xmas

Reviewed on 11/11/15

Guest

Turned out perfect... thanks!

Reviewed on 01/11/15

christine b(172)

Great with Pease pudding and veggies :-)

Reviewed on 31/10/15

Guest

Served with cabbage and new potatoes, Yummy :)

Reviewed on 15/04/15

Guest

Amazing

Reviewed on 08/04/15

Guest

Help! I've just bought two small joints of gammon as I couldn't get hold of a large one. I'm planning on boiling them both together - do I need to double the cooking time?

Reviewed on 03/04/15

Susan N(37)

It tasted really great and a joint makes many meals. You can slice it and freeze it and serve at a later date

Reviewed on 31/03/15

Claire F(173)

Massive hit with my family! We had this on Sunday and it was yummy! I popped it in the slow cooker - such an easy meal to make. Everyone loved it, served it with chips and peas! Nom nom x

Reviewed on 11/03/15

Guest

I am going to try this recipe out with the coke idea. It sounds great

Reviewed on 13/02/15

Guest

I cook this all the time. I vary like the recipe with diet coke, apple juice, or as the recipe states. its a winner!

Reviewed on 13/02/15

Guest

How much water or juice should be used please as am going to try this in the morning x

Reviewed on 08/02/15

Guest

I love this recipe, it is spot on and tastes delicious

Reviewed on 02/02/15

kerry v

Lovely. We had this on Boxing Day.

Reviewed on 27/01/15

Lucy H(258)

This was totally delish and really easy. My family gobbled it up :)

Reviewed on 22/01/15

Lucy H(258)

This was totally delish and really easy. My family gobbled it up :)

Reviewed on 22/01/15

Guest

So easy to do in slow cooker and if using water then can use as a base stock or for soup with leftover ham. A joint easily makes 3 meals, eg pie then soup so frugal too

Reviewed on 21/01/15
Most loved Netmums recipes